Sell with Apparel of Laughs
Are you a club, organisation, business, charity, or group in need of merchandise and branded items? We would love to invite you to become a part of our new shop hosting initiative with Apparel of Laughs. 
Every good club deserves some cool clothing that members can buy and wear with pride, but as a leader of a club, it can sometimes be hard to keep track of everything going on within the organisation. No one wants to be dealing with individual merchandise orders as well as the day to day runnings of their group. This is where Apparel of Laughs can help you out.
We would love to design and host all your club merchandise to save you time and worry. 
What you will get from us:
Custom hosted page on Apparel of Laughs for members or fans to visit and purchase items.
New and creative designs to appeal to members young and old.
Monthly updates on sales and commission payments sent directly to your club.
All stock is handled by us so no need for bulk orders and boxes filling up homes.
All other logistics and hassle is done by us.
A custom hosted shop page with Apparel of Laughs is a great way to raise revenue and funds for your club. Below are prices for shop set ups, what you get in the package, and the commissions you can gain while selling on our platform.
Small Shop
Up to 6 Items
1-2 Custom Designs Included
20% Cash Commission On Sales
Medium Shop
Up to 12 Items
3-4 Custom Designs Included
25% Cash Commission On Sales
Large Shop
Up to 20 Items
5-8 Custom Designs Included
30% Cash Commission On Sales
* All commission is based on item selling price.
Products We Can Design and Supply
Here is a selection of the types of people, groups, and organisations we would love to work with.
Car, Motorbike, and Automobile Clubs
Charities and Not For Profits
Sports clubs and organisations
Art and Creative groups
Food and drink businesses
Schools
Musicians, comedians, and performers.
Anyone else who thinks this would work for them.
If you would like an example of how your shop could look take a look at the Football Fiesta page.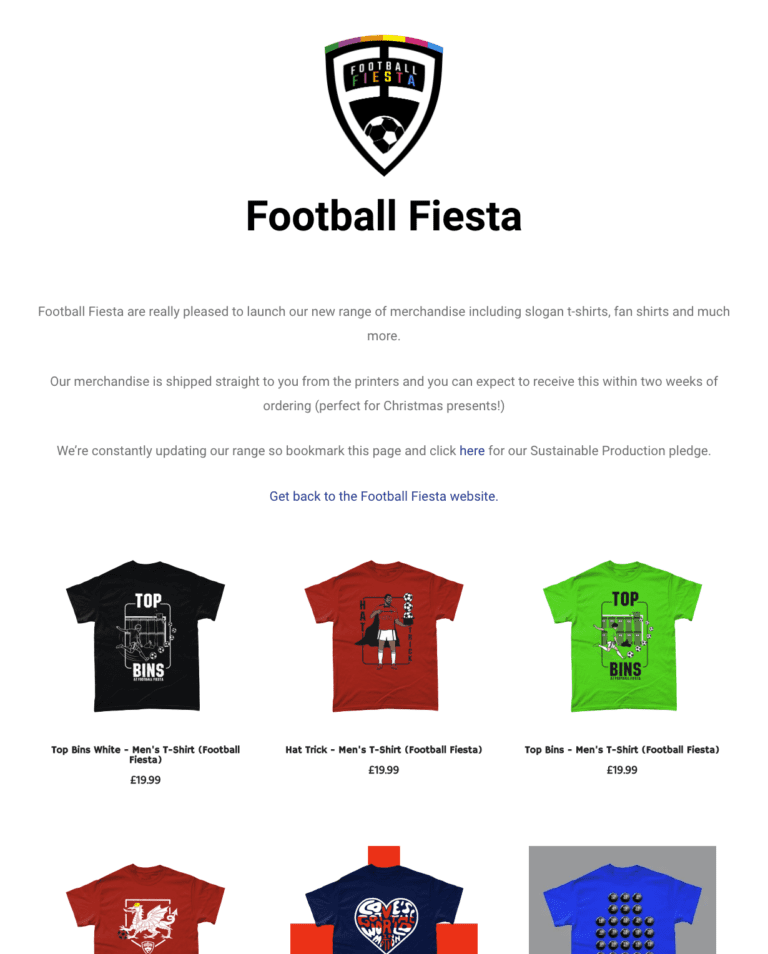 If you are interested in working with us to create a custom shop page for you, or are in need of custom designs please do get in touch. We are happy to answer any questions that you might have.